Church Announces Government Bailout
SALT LAKE CITY, UT - LDS Church officials announced this morning they are prepared to bail out the United States government. The announcement comes amid speculation that the U.S. Government would be forced to default on this month's debt payment to China.
According to a source in the Church's accounting office, who declined to be named because she is not yet authorized to speak on the matter, the Church will fund the bailout with gold, silver, and precious stones currently stored in its famous Granite Vaults. The gift of these precious metals and gems exhausts the remains of the vast fortune hauled across the plains by Brigham Young in the mid-1800's.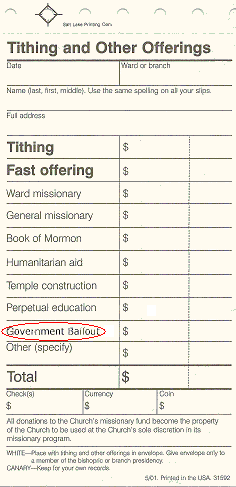 New Donation Category
added to Tithing Slips
Although the bailout will stave off immediate Chinese takeover of the U.S. Government, church officials have privately expressed concerns that, at the current rate of government spending, the government may once again be in financial trouble within the next 5-6 months.
The situation has prompted the Church to establish a new donation category called "Government Bailout" on its official donation slips. The new category will allow members in the United States and Canada to directly contribute to saving the government. The Church Printing Office is rushing through updated "Tithing and Other Offerings" slips that include the new category.
Under President Barack Obama's proposed restrictions on charitable donations, it is unclear whether donations to the new category will be tax-deductible.
This is a parody article intended for entertainment only and does not document real events or persons. In other words, this is fiction. Copyright 2009 by The Mormon Zone. All rights reserved.