Three Nephites Spotted at Disneyland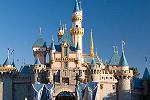 ANAHEIM, CA – An exclusive Mormon Zone investigation has determined that the Three Nephites appeared at Disneyland, confirming rumors that have spread through the LDS community in recent days.
The Three Nephites were spotted by hundreds of eye-witnesses over the course of three days in early December.
"I couldn't believe my eyes," says life-long member Nancy Young, "they were only ten feet in front of us in the line for Space Mountain. I turned around to tell my friend about them, and by the time I turned back, they had already boarded the ride. I really wanted to get their signatures on my Mickey Mouse hat."
The Famous Trio were spotted at numerous other venues throughout the park. "They came through the line here five or six times," claims the attendant at the It's a Small World ride, "They said it was their favorite."
One eye-witness even claims he has a picture of the three posing next to Cinderella's castle. "Unfortunately, the picture came out blurry," said George Evans, "I'm not sure why though. All of the other pictures from our trip were perfect."
Some eyewitnesses were less than enthusiastic about the encounter. "Yeah, I sold them the 3-day Park Hopper Package," confirmed less-active member John Thompson, who works part-time at the main ticket office, "I don't know what the big deal is though. I sell a lot of tickets and they seemed like any other visitors. I'm not in any trouble, am I?"
Mormon Zone researchers caught up with the three Nephites at their home in downtown Nephi, Utah, where Mark and Kate Moss and their son Nick confirmed they had recently visited the park. "We promised Nick we would take him to Disneyland when he got his Eagle," said Sister Moss, "It was the trip of a lifetime - although I still can't get that stupid tune out of my head."
This is a parody article intended for entertainment only and does not document real events or persons. In other words, this is fiction. Copyright 2009 by The Mormon Zone. All rights reserved.