Bigfoot is a Mormon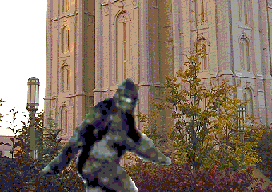 SALT LAKE CITY – The Mormon Zone announced today that it has uncovered conclusive evidence that Bigfoot is a member of the Church of Jesus Christ of Latter-day Saints.
Mormon Zone researchers launched their extensive investigation after a report by the Bigfoot Field Researchers Organization (BFRO) disclosed recent Bigfoot sightings on the grounds of Temple Square in Salt Lake City.
As part of its investigation, the Mormon Zone was able to obtain an exclusive interview with the shy and reticent creature at his home in Rigby Idaho, where Bigfoot is a less-active member of the Rigby 1st Ward.
"I really would like to become more active," says the prospective elder, "but all of the media attention has made it a bit difficult." Bigfoot says he tries to make it to church activities at least once a year - usually timing his visits with the ward's annual Halloween party. "I once had a small part in a roadshow," the 7' 6" Bigfoot explains proudly, "and the ward basketball team tried to recruit me once, but I couldn't shoot baskets worth a darn."
The recent trip to Temple Square was apparently orchestrated by Bigfoot's home teachers as part of this year's activation goals for the ward. "I believe Bigfoot really enjoyed himself," said one of his home teachers, "although he seemed strangely put-off by all of the tourists with cameras."
Church membership has been difficult for Bigfoot. Against his parent's wishes, he joined the church in Canada when he was only twelve years old. Many of the media-reported sightings of Bigfoot occurred during Boy Scout campouts with LDS-sponsored Canadian Troop 79. "I really enjoyed the scouting program," claims Bigfoot, "but the constant paparazzi attention made it difficult for the other boys in the troup to focus on earning their merit badges."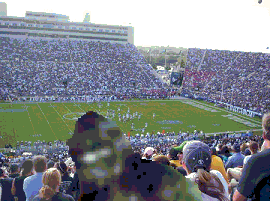 Bigfoot at a Recent BYU Game
Bigfoot dropped out of scouting before earning his Eagle Scout award, but the skills learned in the scouting program served him well as he wandered the forests of Canda and the Northern United States for the next twenty years. Bigfoot eventually settled in rural Idaho. "Everyone's a bit peculiar here," said Bigfoot, "so I've fit in fairly well."
This is a parody article intended for entertainment only and does not document real events or persons. In other words, this is fiction. Copyright 2009-2010 by The Mormon Zone. All rights reserved.