Lights Out for Temple Square?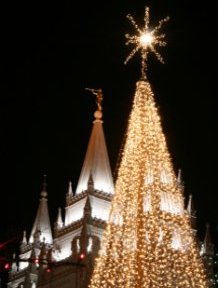 SALT LAKE CITY – The Federal Aviation Administration has sent a demand to LDS Church headquarters ordering it to immediately cease and desist its annual holiday tree-lighting activites on Temple Square.
The unusual demands come amid a recent trio of near-crash incidents which occurred over this sprawling metropolis in the heart of the Wasatch mountains.
FAA Deputy Chief Larry Barnes claims the recent incidents were directly caused by pilot confusion over the Church's annual Christmas display, which, when seen from the air, appears to mimic the official runway landing lights at the nearby Salt Lake City International Airport.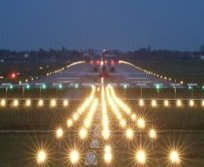 The Runway at SLC Airport
FAA watchdogs and local politicians are up in arms over the FAA's actions, claiming the agency is targeting the Church because of its religious beliefs and is also seeking to divert attention from the controversy swirling around a missed incident-response training opportunity during last week's no-fly-zone incursion.
During last week's highly publicized incident, fighter jets from Hill Air Force Base were scrambled to intercept a wayward plane vectored directly at the Salt Lake Temple, but due to EPA-imposed emissions restrictions, the fighter jets were forced to turn around when they ran out of fuel over the Great Salt Lake.
The wayward airplane unfortunately crash-landed in the Avenues above Salt Lake City before the fighter jets were able to shoot it down.
Upon refueling, the jets eventually had a chance to fire their missles at the airplane, but were only able to kill several emergency responders and onlookers on the streets surrounding the crash site.
"A kill is a kill," said one unnamed Air Force spokesman, who declined to go on the record due to the ongoing investigation.
Although the Church has yet to make any formal comments in response to the agency's demands, privately they are expressing frustration and dismay that they may be forced to turn off the lights on the largest tourist attraction in Utah, which draws hundreds of thousands of visitors each holiday season.
Many SLC residents are concerned that cancelling the annual tradition may also turn off the lights on the city's budget, which obtains 26.4% of its annual revenue through parking tickets around the square during the holiday season.
The Mormon Zone commissioned a local artist to create a rendering showing what historic Temple Square will look like if the FAA succeeds in forcing the church to turn off the lights.
Temple Square Goes Dark
(Artist's rendering)

This is a parody article intended for entertainment only and does not document real events or persons. In other words, this is fiction. Copyright 2009 by The Mormon Zone. All rights reserved.