No More Red Ties at Conference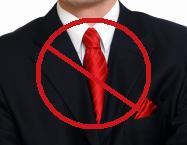 Salt Lake City, Utah – The LDS Church announced this morning that it will be asking all General Authorities to refrain from wearing red ties at its semi-annual General Conference this April.
Until three years ago, General Authorities were required to wear red ties to all sessions of the conference. At recent conferences, however, the dress code has been relaxed, and a gradual transition from red to blue has unofficially taken place.
The red-tie policy raised a red-flag at Church headquarters two months ago, when the results of a member re-activation study concluded that many less-active members were seeing red because of the previous dress code. The color red, traditionally associated with evil, was, according to the study, quickly becoming a red herring for some members with weaker testimonies.
"This is truly a red-letter day for the Church," said an official Church spokesman, "We welcome back any who have been offended and sincerely hope that the new policy may, in some small way, roll out the red carpet for an eventual return to full fellowship in the gospel."
Many General Authorities are welcoming the change in policy. "I hated those darn ties," said one member of the 32nd Quorum of the Seventy. Not all General Authorities are painting the town red over the changes, however. "My budget is going to go in to the red big time if I have to replace all my ties," said another member.
This is a parody article intended for entertainment only and does not document real events or persons. In other words, this is fiction. Copyright 2010 by The Mormon Zone. All rights reserved.