Zucchini Lands Man in Court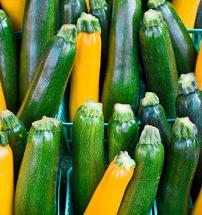 PRICE, UT - Summer harvest seems to bring out the neighborly instincts in many home gardeners. This is especially true for residents of the sleepy Mormon Town of Price, Utah, where the annual home-grown production of zucchini, tomatoes, and other crops are estimated to be over ten times the consumption rate.
The neighborly instincts may soon be squashed, however, if Bob Johnson has his way. Johnson is suing his neighbor, Christopher Ray, over Ray's alleged "excessive gifts of zucchini, tomatoes, and other produce," claiming "hardships and damages" associated with the receipt of the unwelcome items.
The lawsuit, filed yesterday, seeks a $7,500 reimbursement of "fees and costs associated with the removal and disposal of 14000 lbs of zucchini, 239 bushels of tomatoes, 3 tons of assorted squash, and 5 watermelons."
According to Barbara Walman, attorney for Johnson, the items were "surreptitiously" deposited by the defendant on Johnson's premises and in his car on over 39 separate occasions last year.
In addition to reimbursement, Johnson is seeking $25,000 in punitive damages, and a restraining order prohibiting Ray from ever bringing vegetables on to his property.
Ray has filed documents denying the allegations. According to his attorney, he is also in the process of preparing documents for a countersuit involving over 30,000 lbs of produce given to him by Johnson the year before.
The filing of the lawsuit three days ago has caused a number of noticeable side effects in this otherwise predictable community. The area green-waste recycling plant reports more residents than usual are disposing of their zucchini themselves, with zucchini and yellow squash making up approximately 67% of the loads accepted by the plant in the past two days.
Editor's note: This article first appeared in the Mormon Zone on August 14, 1999.
This is a parody article intended for entertainment only and does not document real events or persons. In other words, this is fiction. Copyright 1999-2010 by The Mormon Zone. All rights reserved.